What makes us a Christian school?
As a church school we believe that our role is to educate the whole child and that the spiritual growth of our children is as important as their academic development. We have a well planned curriculum that embraces spiritual, moral, social and cultural development.
As a distinctively Christian school, the principles that underpin everything we do are:
Love the Lord Your God
Love Your Neighbour as Yourself
We aim to develop six Christian Values in our children:

Friendship - good companions and community
Hope - assurance that we can rely on God
Forgiveness - the joy of a fresh start
Thankfulness - knowing that life is a gift
Compassion - putting yourself in someone else's shoes
Endurance - not giving up even if things are difficult
These Christian Values feed into our Four Golden Rules:

Always try our best in everything we do
Be responsible and respectful
Be kind and caring
Be happy and smile
More information about how our Christian ethos relates to our Four Golden rules and our language for learning can be found here.
We are proud of our strong links with St Nicolas Church and often work closely together.
We also have links with Cranleigh Baptist Church.
We are pleased with the spirituality that thrives in our school community and more details about our provision can be found here.
worship
Current Christian Value (Autumn Half Term 2): Hope
Hope is more than wishful thinking. Hope is knowing that God can be relied on and helps people through difficult times. Click here for the Learning Log task for this half term's Christian value, Hope.
Each week these values are explored through our worship underpinning all we seek to achieve in the lives of our children and are central to our vision for the whole school family. Getting children to think for themselves and ponder ultimate questions is the integral ingredient in our recipe for spiritual development.
Worship is a time enjoyed and anticipated by staff and children alike but this is only achieved by careful planning and resourcing.
We are visited every Monday in whole school worship by Open the Book, a group of story tellers from different Christian churches, who bring alive the Christian value or theme of the week. Click here to visit their website for more information. A team of volunteer storytellers use drama, mime, props, costume and audience participation to present Bible stories in ways that are lively, interactive, engaging and fun. Recently, our theme was Creation and we were told the story of Adam and Eve being tempted to eat an apple in the Garden of Eden. It is a fantastic start to our week.
Tuesday to Thursday worship are by key stage and based around the themes of the week. Class teachers plan interesting ways to experience our themes with lots of laughter and fun and always a chance to join in a song and share a time of reflection or prayer. At lower school, on alternate Thursdays, worship alternates between being led by the church and teaching staff. At upper school on Thursdays, the worship alternates between being led by the church and our Worship Club which is comprised of children's representatives from each class-they plan and deliver their own worship based on the theme of the week.
Class worship occurs on Wednesdays and offers an opportunity for children to participate in collective worship in a smaller group setting. Songs learnt can be traditional as well as ones that link to the theme, often with lyrics to make you think. Our week is rounded off with our highlight 'celebratory worship' reminding everyone of the theme and allowing the children to feel involved and valued through the sharing of their successes. Parents and carers are always welcome at these sessions.
Through our approach to spirituality we try to inspire and challenge our children, nurturing a positive attitude that leaves a legacy that remains with them. We believe we have a formula that adds up to something that really multiplies spiritual awareness for everyone in the school both in our worship sessions and throughout the entire curriculum.
Worship Club
October 2016
For our worship theme of Prayer, our Worship Club enacted the story of Daniel and the Lions.
May 2016: Theme: God's love
Mars class put together their own ideas about God's love after reading the Bible passage from Corinthians 13: 4-7
Love never breaks a heart

Love doesn't do wrong

Love doesn't make people hurt

Love isn't war

It is happiness

Love is always there for you

It is important

Love is strong

It is always by your side and never makes you cry

Love brings people together

Love flows like a river and it comes from your heart.

By Mars Class 12/05/16
Nov 2015
Our Worship Club lead a thought provoking worship about refugees, looking at what a child, mother and family carried in their bag when they travelled away from their homelands. We reflected on how we could help and pray for these people and we have a dedicated prayer station in the hall at upper school.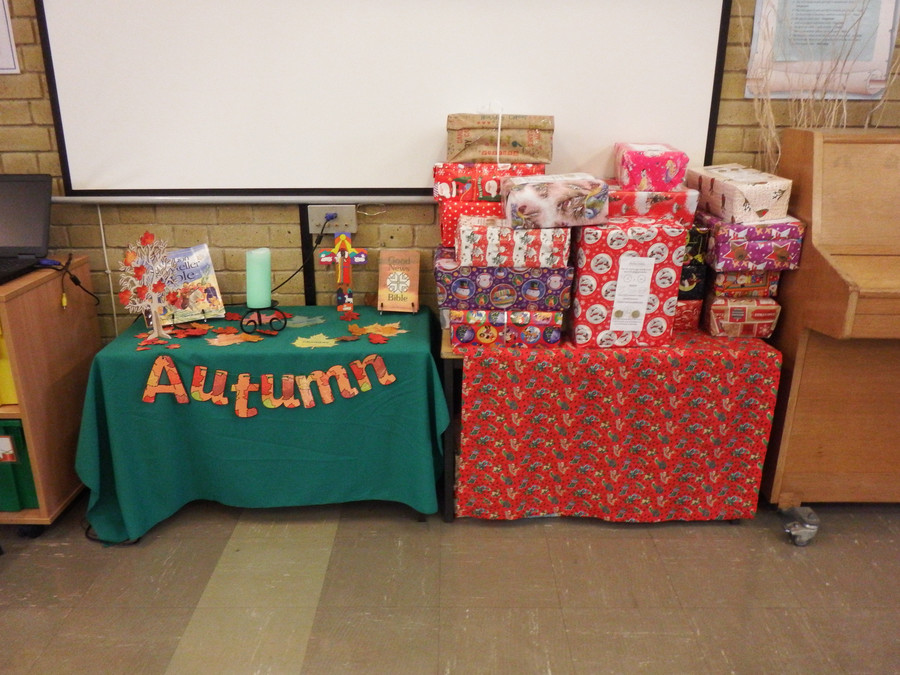 Sept 2015
We are very pleased to announce that our brand new Worship Club starts this week and is being run by our RE governor, Mrs Moran, our school/church youth worker Georgie and our RE coordinator Mrs Moseley, together with a class rep from each upper school class. Our aim is that the Worship Club team will run
Thursday
worship at Upper School by writing the prayers, choosing songs, dramatizing bible stories linked to our weekly Christian theme etc. and the children will take the lead in organising the assemblies.
We are very proud of our strong links with Cranleigh`s St Nicolas C of E Church and our village community and we work closely with Reverend Roy and Georgie to coordinate our activities and ensure that our school is run with a strong Christian ethos where children feel secure and loved. This is reflected in our school prayer.
Latest Church News
Guildford Cathedral Leavers Service June 2017
As we are a church school, our Year 6 attended a Leavers Service at the cathedral, together with pupils from five other primary schools from the Guildford Diocese. They enjoyed four different prayer station activities followed by a servicelead by the Bishop of Guildford, Andrew Watson.
Elmolo - May 2017
We were recently joined in celebratory worship by Mike Payne, our local link man to Elmolo Primary School in Kenya. Mike gave us an update on the Kenyan school children and we presented him with fundraising cheques. Year 5 raised funds by holding a "Guess the number of sweets in the jar" competition and year 3 made and sold healthy snacks at breaktime. Thank you to year 3 and 5 for their tremendous efforts to raise money for our friends in Kenya.
Wintershall Players - May 2017
We were recently lucky enough to be joined in worship by members of the Wintershall Players who enacted "Jesus heals a blind man" and "Judas agrees to betray Jesus" in order to help us think about the Christian value of compassion.
Compassion - Mar 2017
We are proud to share the news that Evie in year 5 has raised a fabulous £15 for Comic Relief by baking cup cakes and selling them at her mum`s workplace. This shows real compassion for others - well done Evie!
Easter Pause Day - Mar 2017
On the 29th March Neptune took part in Easter Pause Day. Their focus this year was the journey of Jesus. The class took one of five stories that depicted the journey that Jesus' life took and acted these out in their topic groups. The group shown acted out Jesus' Resurrection.
Eggciting Easter News - Mar 2017
As a distinctively Christian school, we have been marking Easter in many ways and encouraging the children to not only learn about the Easter story but also to think about what the Easter messages mean to them.
Reverend Roy, Reverend Ian and Andy Turnbull had the very difficult task of judging the entries in our wonderful Easter hat and garden parades at lower and upper school. Thank you for your support with these Easter amazing creations.
On Wednesday we held Easter Pause Day, when we were off-timetable so that we could focus on learning and thinking about Jesus` life journey through some really creative activities including art, circle times, puppetry and drama.
The whole school attended St Nicolas Church on Thursday, when year 4 performed the Easter Story in a fantastic musical production, entitled 'Easter Children'. Well done and thank you to our year 4 children and staff team. Later that day, Andy Turnbull (Youth and Children`s Pastor for Cranleigh Baptist Church) joined year 6 to help answer their questions about Easter.
We have enjoyed a very thought-provoking, creative and colourful learning experience.
A message from Reverend Roy . . . . (Mar 2017)
All of us at St Nicolas Church would like to wish staff, pupils and families at Cranleigh C of E Primary a very holy and joyful Easter holiday. If you would like information about what we are doing at Easter, including the open air service on Good Friday which we share with all the Churches in the village, please visit our website www.stnicolascranleigh.org.uk or visit us on Facebook. You may like to use this Family prayer at home:
Dear God

Thank you for giving us such good gifts.
For our families who love us.
For yummy food and tasty drink.
For so many different beautiful animals.
For parks with tall trees,

For spring flowers and soft grass.
For birds that fly among the clouds.
For seas and streams that are fun to play in.
And thank you for your Son Jesus.
We like to read about him in the bible.
He taught his disciples about you.
He healed people who were sick.
He walked on water,
And even died and came back to life.
Help us to remember all the things he did
And celebrate him at this special time.

Amen.
Easter Workshop - Mar 2017
Year 6 recently joined Andy Turnbull, Youth Minister at Cranleigh Baptist Church, for a workshop about The Easter Story. The children really thought about Christian belief and faith.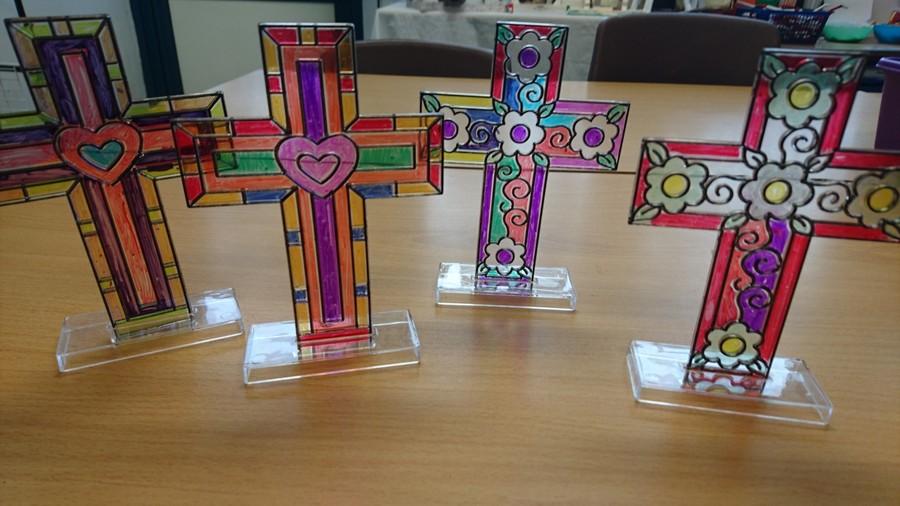 Workshop at Cranleigh Baptist Church - Feb 2017
On Monday February 20th, Year 3 were invited to Cranleigh Baptist Church. Year 3 took part in a workshop called 'Riding with Giants', this involved finding out how Christians worship God. Andy explained that this could be done through prayer, singing, music, speakers, groups and quiet time alone. Andy used examples of these throughout the workshop.
The workshop also focussed on the story of Joshua with the children becoming the Israelites and marching around the city of Jericho silently until after 6 days the walls of Jericho came tumbling down, the Baptist church had created this with many boxes which came crashing down around the children.
The Children then split into two groups, one group completed an activity sheet whilst the other had a talk and demonstration on the sharing of bread and wine, which leads very well into our current RE learning 'What is Maundy Thursday?'
The children gained a great deal from the workshop and there was a lovely buzz on the walk back to school. Before leaving one of the members of the Cranleigh Baptist Church had commented how well behaved and engaged the children were.
'I learnt that William Tyndale translated the bible into English' – Jed Robson, Pluto

'I have learnt that Jesus is not on their (Baptist) cross because he rose back to life so is with us and not on the cross. That People didn't want the Bible to be read by everyone so wasn't in English. Henry Vlll finally made it in English when he found the last one and read it.' – Elias Jones, Neptune
Thank you from Romania - Feb 2017
Click here to read the report from Pastor Corneliu in Romania, sent with thanks for the fantastic number of shoebox donations received from Cranleigh last November.
Prayer Space Activity - Feb 2017
We were very pleased to hold a prayer space activity as part of our Feeling Good Week and we would like to thank Andy Turnbull, Youth and Children`s Pastor from Cranleigh Baptist Church, for supporting this. The children thought about and discussed what a prayer is, its value and then went on to write their own thoughts and prayers based on thankfulness.
Visit from Bishop Jo - Feb 2017
On Tuesday 1 February, year 6 were delighted to be joined by Bishop Jo from Guildford Diocese. Year 6 have learnt recently about the structure of the Church of England and about the role of a Bishop so they had prepared lots of questions in readiness for their question and answer session with Bishop Jo. She then led worship and gave a blessing. She was impressed by the singing of year 6 and by the interesting questions
she was asked, for example about her role, faith, and even about her pets!
Christmas Tree Festival - Dec 16
Thank you to Mrs Lee and her team of children who made decorations for our entry into the Christmas Tree Festival at St Nicolas Church. Our tree , which was based on the theme of "Winter Welcome", looked lovely and was decorated with hand made snowflakes, snowmen and sparkling silver hearts. We came runner up - it was a very close run competition between our tree and the tree from Messy Church. Well done to Mrs Lee and her team of helpers and thank you to everyone who voted for us.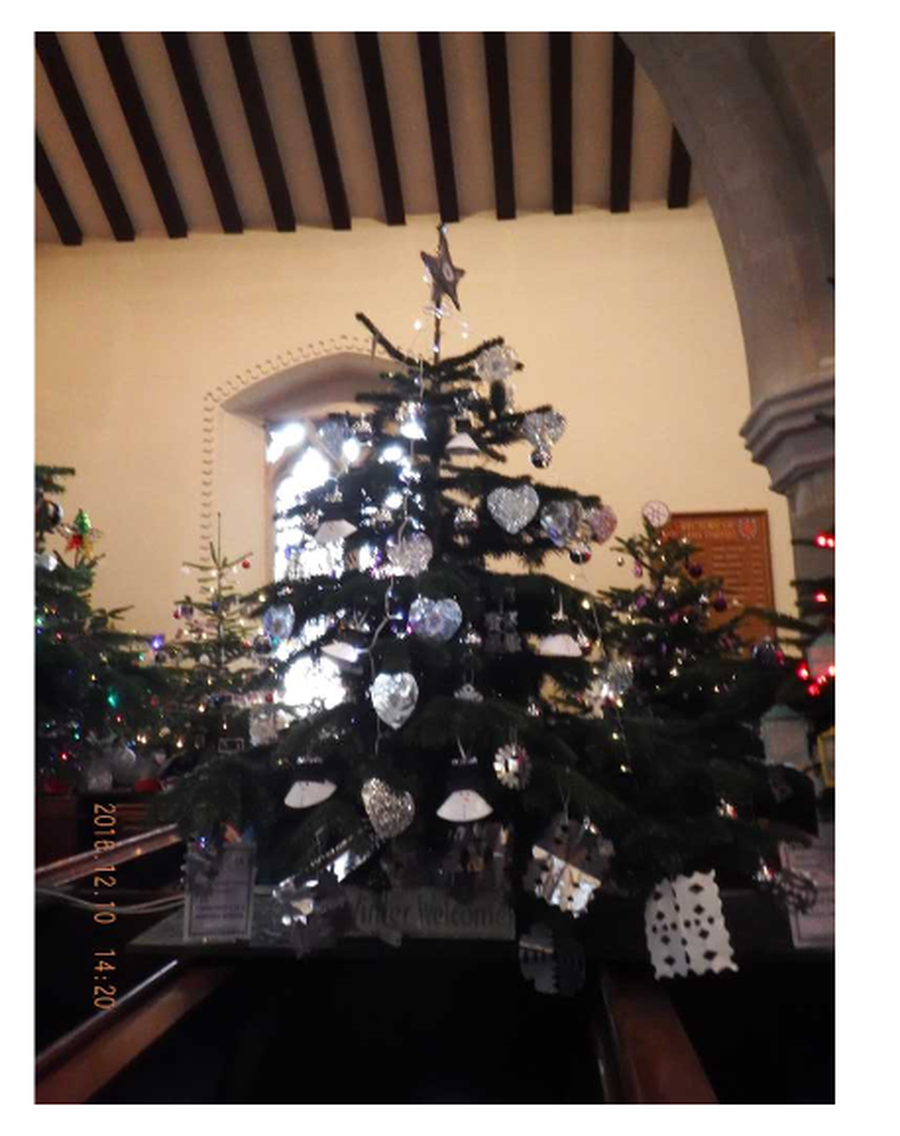 Romanian Shoe Box Appeal - Nov 2016
We would like to thank everyone for their amazing generosity in donating shoe boxes to the appeal for Romanian children. We have collected around 200, which is so wonderful. The boxes will be collected by the Rotary club on Monday for transport to Romania soon.
Thank you once again.
St Albans - Oct 2016
Mercury have been learning about the life of St Alban and what his story tells us about courage and following your beliefs.
Church Trail - Oct 2016
Some of our prefects were very excited to be invited to launch the NADFAS church trail at St Nicolas church recently. The trail, which was a little like a treasure hunt, was based upon features of the church building and their significance to Christians. Thank you to Georgie, Reverend Roy and Mr Bagot for inviting us!
Anyone can go in at any time (so long as there isn't anything else happening in Church at the time!) and complete the church trail. There is a question sheet for children and a laminated answer sheet for the adults to help.
Harvest Donations - Sept 2016
Year 6 prefects were delighted to have helped Reverend Roy and Georgie to deliver harvest donations to Cranleigh residents. Thank you again to all our parents and friends who kindly donated items for our Harvest celebration service at church.
Harvest Festival - Sept 2016
On the 28th September all of Year 3 performed in church for this years harvest festival. We chose a special theme called 'The Harvest of our Trees'. We thought about how special tress are and how much they actually give us. We said thank you to God for creating our beautiful world.
Special Visitor in school - Oct 2016
As part of their RE curriculum, Reverend Ian visited year 6 this week to talk with the children about the role of the church in the community.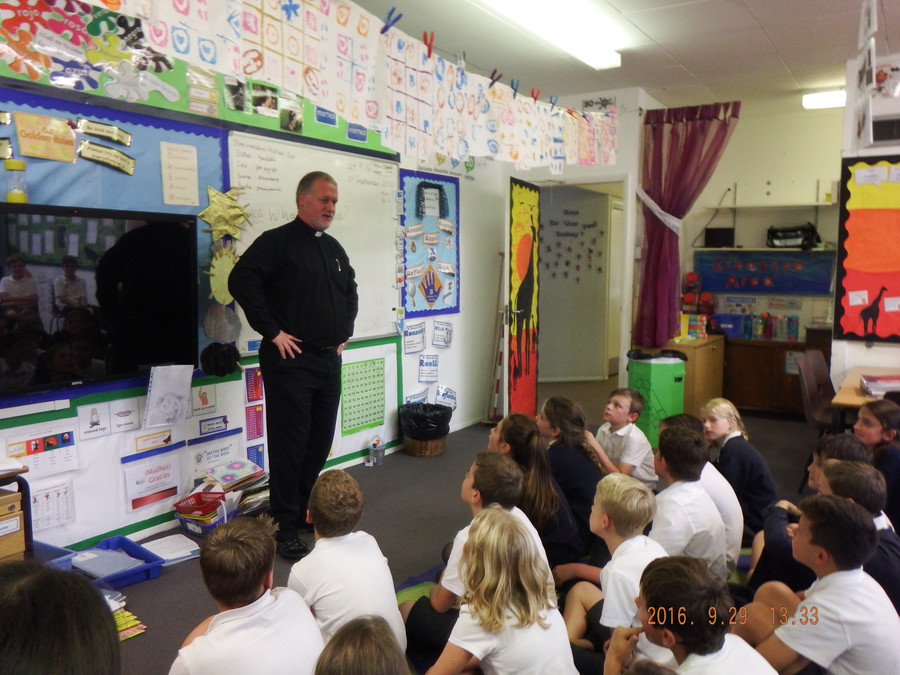 Comets Class Visit - Sept 2016
Comets class visited church this week to learn about Baptisms. Max had a pretend Baptism, while we were told about each part of the special ceremony and important objects and symbols that were used. Seeing the ceremony first hand at church really helped us remember what happened during each part of the ceremony and why it was important.
Reception Class Visit - Sept 2016
Rockets Reception children joined their mainstream class on a visit to church. They were able to have a look around the church before our Harvest festival service later this week.
Moons Class Visit - Sept 2016
Moons class went back to church this week to look at the features of the inside of the church building. We met Georgie and Ian who showed us around and told us lots of new words. We learnt about the pulpit, the altar, the organ pipes, the font, stained glass windows, the choir stalls and the nave. (We remember the nave as the belly button of the church because it is in the middle.)
Year 6 Visit to church - Sept 2016
Year 6 recently visited St Nicolas church to find out about the church as a building. We learnt that the church building dates back 900 years and the bell tower was erected in 1638. The church is used for many different purposes besides worship. The bell tower Captain showed us the bell ropes and we learnt about how the bells are used to call people to services. Georgie and Ian informed us about the purposes of the different parts of the church building-we had a fantastic visit and finished by having a quiet, personal reflective prayer time.
Church Service - Sept 2016
We started our new school year with a service at St Nicolas Church. The service was led by Georgie, Youth Pastor, and Ian, our new curate and was based on the phrase, "fishers of men". The phrase "fishers of men" was spoken by Jesus when He was calling two of His disciples, Simon Peter and Andrew, to follow Him. "As Jesus walked beside the Sea of Galilee, he saw Simon and his brother Andrew casting a net into the lake, for they were fishermen. 'Come, follow me,' Jesus said, 'and I will make you fishers of men.' At once they left their nets and followed him" (Mark 1:16–18; see also Matthew 4:19).
Prayer Space Workshop - June 2016
During Feeling Good Week, Georgie Hendy, Youth Pastor from St Nicolas Church, and Sophie Moran, Governor, ran a Prayer Space workshop for our children - a quiet and calm place with interactive and attractive activities to engage children in reflection and prayer in a relaxing environment. We would like to thank Georgie and Sophie for all their support and efforts, the children really enjoyed this experience.
The Queen's 90th Birthday - June 2016
The children of Cranleigh Primary were thrilled to have their very own garden parties to celebrate the Queens 90th Birthday. The events, featuring traditional maypole dancing and a picnic surrounded by Union Jack bunting, were opened by Canon Derek Holbird. Lower school children were joined by Queen Georgie, Children`s Pastor from St Nicolas Church Cranleigh. "Our pupils learnt about Queen Elizabeth`s reign, duties and family for the day and our assemblies in particular focussed on her life of service. Our children had a wonderful experience and we all wish her Majesty a very happy birthday" said organiser Mrs Julie Moseley.
June 2016
Year 4 were welcomed to the Shah Jahan Mosque in Woking as part of our learning about Islam. We are very grateful to The Cranleigh Lions for contributing to travel costs. We had a question and answer session, sketched the old mosque in the gardens, visited the library and saw afternoon prayers.
Easter - March 2016
Year 6 visited the Easter statues at Winterfold and Georgie Hendy, from Nicolas Church, lead their discussions, reflections and understanding during the visit.
As a school, we stopped all our usual activities for Easter Pause day, a time for our whole school to think and learn more deeply about the Easter story, particularly from the point of view of the witnesses Peter and Judas.
Year 4 performed "Here Comes Jesus" in church to bring the Easter story alive. We also held our annual Easter Hat and Garden competition and the winner from each class were judged by Reverend Roy, David and Georgie.
More activities from Easter Pause Day
Stars class acted out Mary's story and wrote prayers.
Rockets class learnt about the story of Easter through role-play, learning that at the Last Supper Jesus acted as a servant when he served his friends. Rockets class thought about the emotions that would have been felt by people in the story and tried to link these to 'Blob' characters.
What's In My Bag? - Nov 2015
Guildford Diocese has recently produced a thought - provoking initiative called "What's in my bag?" which allows children and adults to reflect on what refugees choose as being important to carry with them in their one bag of possessions and also on how others can help them. Our Worship Club has decided to lead a worship on this theme and there will be a display and prayer station in the main hall at upper school.
Click here to read our Worship Club children's prayer.
Click here to see the Dioceses` PowerPoint.
Venus Class Visit Church - Jan 2016
Venus went on a little trip to St Nicolas Church to learn about how the church helps people worship. We spoke with Georgie about what the features of a church are and also located them. Georgie explained the purpose of them and how they help people come together and worship.
Harvest Deliveries - Oct 2015
Some of our year 6 children helped to bag up the harvest donations at St Nicolas Church and deliver them to the elderly in the village. Thank you again for your generous donations.
Harvest Festival - Oct 2015
On
1 October
, year 5 will be leading our Harvest Festival at church. An important part of the Harvest message is to think of others and this year the Rector, Rev. Roy Woodhams, has asked us to collect items of food for the elderly of the parish. He has suggested items such as dried or tinned goods as well as fresh fruits and vegetables . These items will then be boxed up and distributed by some of our prefects and church volunteers. You are warmly invited to join us for our service at
9.15am
.
Examples of practice from around our school
We made braclets, each coloured bead represented a different part of the Easter story as we retold it. We tasted hot cross buns and discussed their symbolism and significance for Easter. Then we thought about how the story related to sad or happy moments in our lives, for example if we had ever enjoyed a gathering with friends and family, if we had ever felt let down by a friend like Jesus did.
October 2015 - Moons Class
Moons Class went to church to find out how we are welcomed to the church and what it means to belong. We even had a pretend baptism!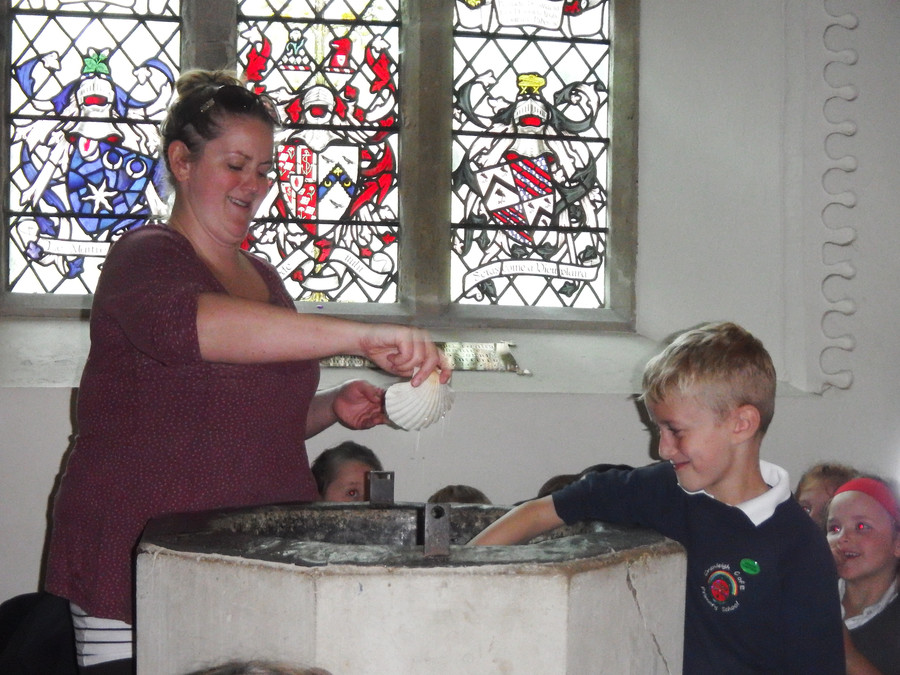 October 2015 - Venus Class
We were extremely lucky to have Georgie Hendy visit us and explain to us all about prayer. We took part in a workshop and different activities where we learnt how people pray and why. We looked at how we can pray and what answers we can get from God. Do you know what they are?
September 2015
Year 4 visited St Nicolas church to learn about how Christians celebrate birth and marriage. Reverend Roy explained the services and their meanings and he showed us the registers of marriages and baptisms. He even found the names of some people we knew in them. We baptised Rev Roy`s daughter`s dolly, got married and had a thoroughly good time learning about this.
God Spot
All classrooms have a 'God Spot', a place for the children to reflect in class. It is also used as part of their class worship.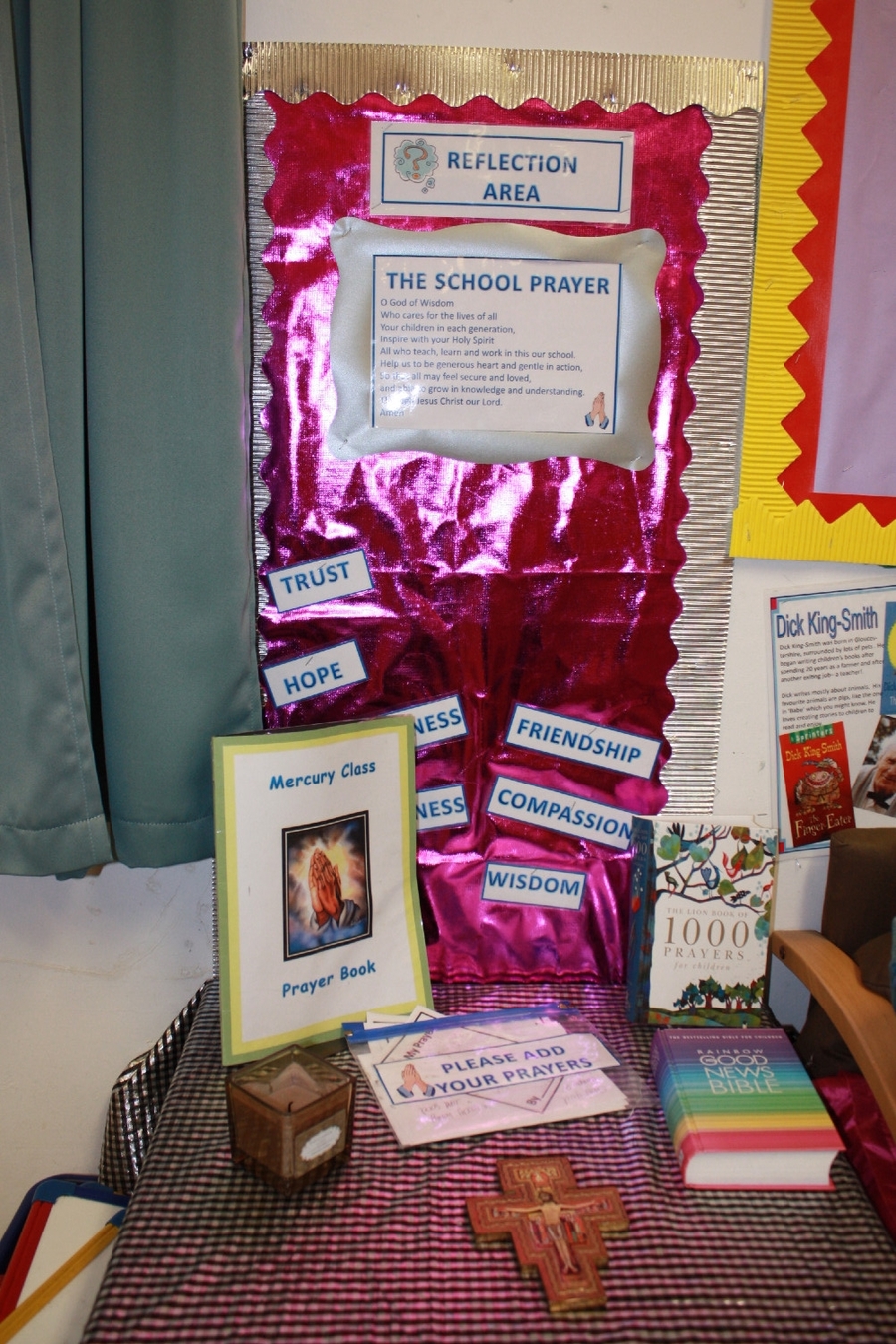 Reflection Area
The reflection area at upper school is used by child to as a quiet space to reflect. There are post it notes available for the children to write special thoughts or prayers on and they are encouraged to stick them up on the walls.