Elmolo
At Cranleigh C of E Primary school we are proud to be linked with Elmolo Bay Primary School in Loiyangalani, Marsabit County, Kenya.

We have been linked with the school since 2008 and each year every class fundraises to help buy them school supplies. This includes basic personal hygiene products, clothing, uniform and other basic necessities.

Click here

to look at the photos of life in Elmolo.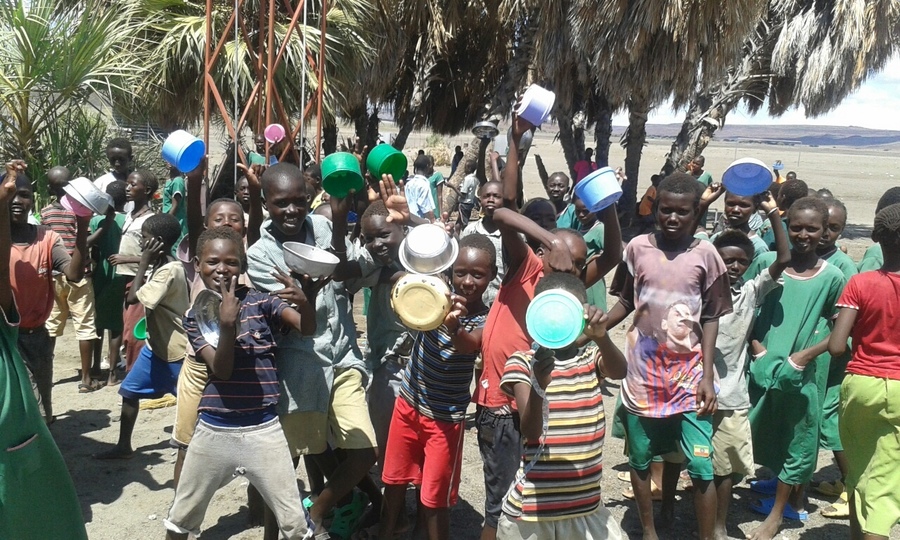 Click here to visit their website where you can to learn more about how our fundraising helps Elmolo school children.
Latest News
This term Year 6 made and then held a cake sale, in order to raise money for Elmolo School. In our last Celebration assembly, Mike Payne, our link to the school, came into the assembly to talk to Cranleigh Primary children about Elmolo and to receive a cheque for £75.00 from the Year 6 children. Well done Jupiter and Saturn classes and their parents.
This half term, Year 5 will be raising money for the Emolo School
We are looking forward this Autumn term to another visit from Mike Payne, our local link man to our Elmolo Primary School in Kenya.
May 2017
We were recently joined in celebratory worship by Mike Payne, our local link man to Elmolo Primary School in Kenya. Mike gave us an update on the Kenyan school children and we presented him with fundraising cheques. Year 5 raised funds by holding a "Guess the number of sweets in the jar" competition and year 3 made and sold healthy snacks at breaktime. Thank you to year 3 and 5 for their tremendous efforts to raise money for our friends in Kenya.
Nov 2016
Mike Payne joined us in Celebratory Worship recently in order to receive the £84.80 raised for the children of Elmolo School by our year 6 cake and biscuit sale. He showed some photographs of new wind turbines that will soon start providing electricity to a million people in Northern Kenya, including those at Elmolo School. Also, the school has received funding to build dormitory each for the boys and girls. Mike thanked year 6 and promised to be in contact soon to tell us what the donation has been spent on.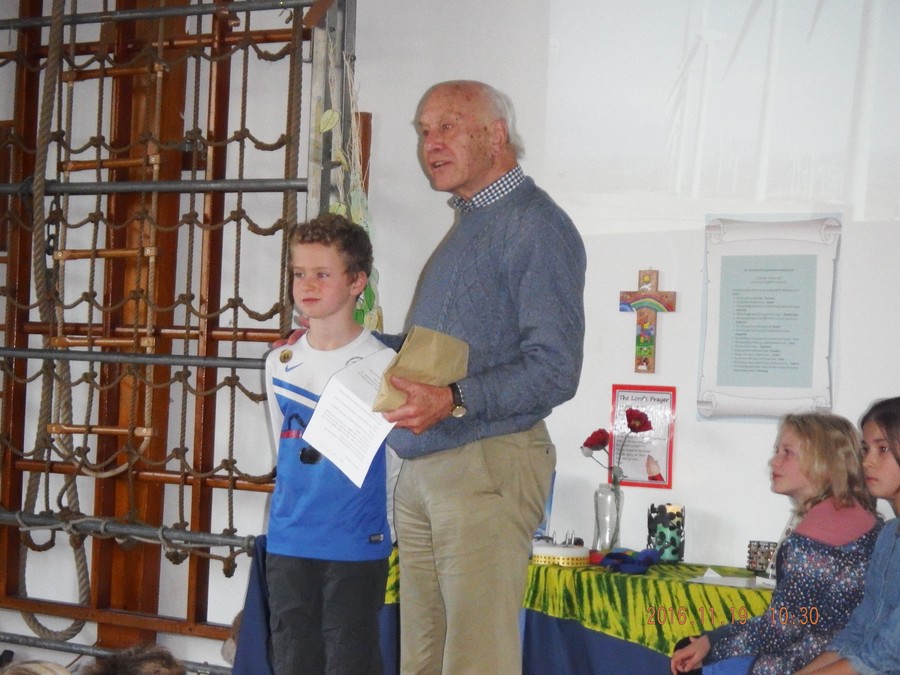 Nov 2016
Thank you to year 6 for making and baking a huge selection of cakes and biscuits to sell to raise money to help the children of Elmolo School in Kenya. Our playground sales have raised an amazing £84.80. Thank you to everyone who purchased these treats.
May 2016
Here is the latest news from Mike:
On behalf of Elmolo School and community a huge thank you to Cranleigh Primary.
I was able to contact Jacob over the last three days. He has been in Marsabit on official business and leaves for Elmolo today. He informs me that the school solar systems that have been operational for the last six years failed to work this week on Tuesday. As you know this is a mixed boarding school and, without reliable source of lighting, life of the teachers and learners would be much more difficult. He thinks the solar batteries and inverters need replacement as a matter of priority.
To partially support this situation the school needs a minimum of two solar batteries and accompanying inverters and other accessories to serve key priority buildings in the school.
Jacob suggests the donation of BP 200 from Cranleigh be used towards the solar lighting revival.
April 2016
We were pleased to welcome Mike Payne into assembly recently to receive a cheque for £200 for Elmolo School. This was raised by year 4 sponsored reading challenge. Huge thanks to year 4 for this great effort. Mike said,
"Another amazing gift for Elmolo. Please give huge thanks again to Year 4 teachers and pupils. I will discover how the £200 will be spent at Elmolo, and let you all know. Cranleigh Primary is very special."

November 2015
We were thrilled to be able to give Mike payne , our link with Elmolo School in kenya, a cheque for an amazing £306.93. This was raised by donating part of the proceeds from our times tables challenge. Mike showed us some recent photographs from the school and has forwarded us this letter from Jacob, headmaster:
Dear Mike, 15th November 2015

We send greetings from our teachers and pupils from Elmolo Bay primary school. I had informed them that you will visit Cranleigh Primary soon and they all send their best wishes and greetings to Cranleigh Primary School community. We are all doing well at Elmolo Primary.

We just had rains after a severe drought, I recently had to cross a big seasonal river just past the Loiyangalani desert Museum.

During this school term we had problems with our fresh water supply and I had to visit the school water source at Ngobolen , 14 kms away from Elmolo Primary. Our water source is an open dam and its water gets to Elmolo by gravity. The water system was repaired and we started having fresh water by mid October.

This year we have 34 candidates (8 girls and 23 boys) who have just sat their final primary education national exams

(from 10th to 12th October). The results will be out by the end of December 2015. At the end of January 2016 these students will join high school. In Kenya primary education takes 8 years and then 4 years of secondary school.

The rest of the pupils from classes 1 to 7 took their exams from 16th November before we closed the school on 20th Nov. for the long holidays. We reopen for the new school term on 4th January 2016 .

In May 2015 we had Marsabit Lake Turkana cultural festival at Loiyangalani and here are a few photos of the various traditional cultural groups that entertained people in that event. It was very entertaining and colourful and the various communities shared a common stage.

The staff house for the nurse at Elmolo villageis now complete including also the medical laboratory, medical lab items, and equipment at the Elmolo health facility and hopefully by January we hope to have it functional. See photos of the two buildings in blue.

Kindly pass our regards and thanks to teachers and pupils at Cranleigh Primary and we wish you all well.
September 2015
Did you know that our school has raised £5000 for the children of Elmolo Bay primary school since our opening eight years ago?
Mike Payne, our link man, came in to talk to year 6 as part of their Stunning start to their Africa topic at the beginning of term. He also spoke in assembly recently to update us on the children of Elmolo School. He told us our latest fund raising efforts will buy lots of school uniform and he gave us a copy of an email from Jacob, the head teacher:
Dear Mike,

We have not started this term as planned due to national teachers strike in Kenya but I have managed to have the final year pupils (grade 8) who will sit for the national exams in early November before proceeding to high school next year in January.

I have attached a photo of our grade 8 pupils and myself.

Thanks so much Mike and pass our greetings and best wishes to Cranleigh Primary School pupils and teachers. We also thank them for their support.

Jacob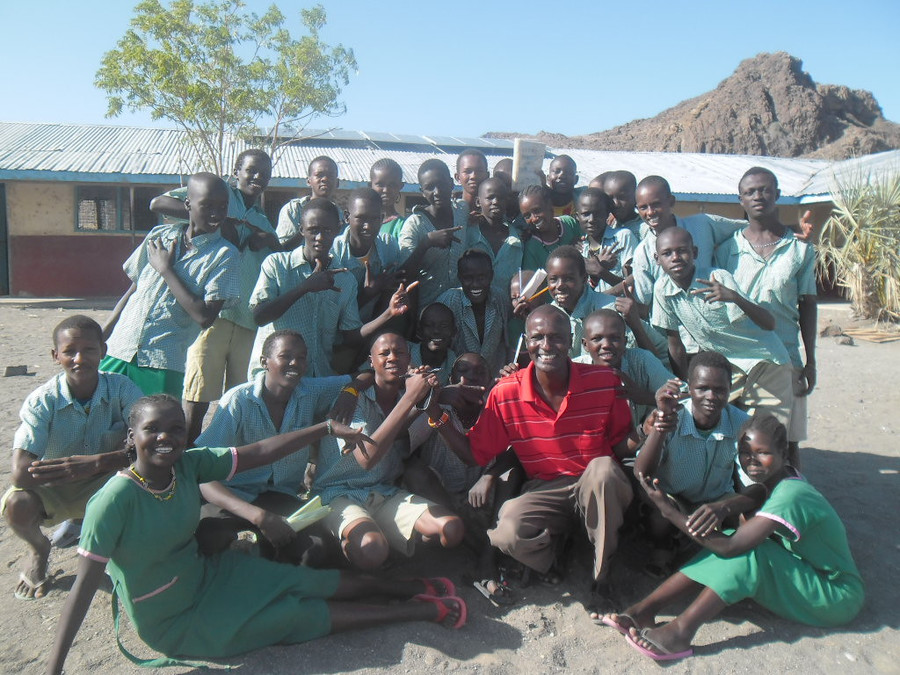 Our fundraising program this year starts with year 6 in October. Thank you to year 6 in advance, we can't wait to see what you get up to. Click here to learn more about how our fundraising helps Elmolo school children.
10th June 2015
Another blockbuster of a cheque - how wonderful you all are. Thank you so much. You now stand out as our main school sponsor and you have raised over £5300 in five years!
Brief on Elmolo School/Community April 2015:
Elmolo School now enjoys sustained development support from a number of agencies and institutions. Two new dormitories, an additional water distribution system and solar system (one each for boys and girls) were completed with funding from CDTF(European union). The boarding is maintained by the Kenyan Government.
The student population is 329 and there are 9 teachers. In addition, Elmolo School has two feeder nursery schools with a population of 94. A new primary school has been set up by the Kenyan government for one of the two Elmolo villages. Elmolo community has now two primary schools. Water access to schools and villages has been good. Jacob is still the Head at Elmolo while his former deputy Richard is the Head at the new primary school called Layeni.
8th June 2015
Mike Payne came in this week to receive a cheque for almost £700 as a result of our fantastic fundraising this year. That means that in our five years of supporting Elmolo School we have raised a whopping £5000 - well done to all our pupils, past and present, who have been involved.
June 2015
Mike Payne is coming to join us in assembly in June to receive a cheque from all the fundraising carried out by our children. Thank you to everyone for your continued support.
November 2014
Mike Payne (our link with Elmolo) has sent us a letter and photos from Joseph, Head Teacher of Elmolo School, Kenya, to say that the children have received the 145 school uniforms which were bought with our latest fundraising monies. Thank you to everyone for your fantastic support. Please see photos and his letter below.
October 2014
Mike Payne, our link man to Elmolo Primary School, has told us that the money we raised last academic year is going to be used to pay for 145 school uniforms for their most needy children. Thank you from Mike and us.
September 2014
We were really proud to learn that Mia and Ellen (year 6) have raised money for the children of Elmolo School in Kenya. The girls made and sold cupcakes at home-well done girls and thank you!
September 2014
On Monday we were joined by Mike Payne who told us the latest news from Elmolo Bay School , the primary school we support in Kenya. The school is located on the shores of Lake Turkana and many of the pupils are the children from nomadic tribes who board at school for long periods. Jacob, the headmaster, has written to thank us for our continued support over the last five years. Click here to see a copy of his letter. Mrs Moseley presented Mike with a cheque for over £800, collected through fund raising by our children last year. We had sponsored spells, fruit kebab sales, muftis, sponsored word searches and of course the infamous Asteroids staff gunge! Special mention must also go to Molly Moran who organised a flashmob in Stockland Square in Cranleigh and donated the proceeds.
Thank you so much for your continued support for this very worthy cause.