spring term
RE
As part of our RE learning, we went to St Nicolas Church to find out what the features were of the inside of the church. Rev Ian told us lots of information. We had a great time!
Letters from captain pete pigeon
​Captain Pete Pigeon sent us one of him many letters this week. He told us that he feels something funny in his chest when he's scrubbing the decks or stacking the cannon balls. We found out that he was talking about exercise and his heart rate. We made observations of what happens to our bodies when we exercise then we wrote back to him.
We explored 2D shapes and looked at lines of symmetry. There were lots of different shapes used - some were regular shapes and some were irregular. By using mirrors, we could check the symmetry line was correct.
stunning start
We had a visit from Sir Teachalot who told us all there is to know about pirates!
We found out about jobs and what would happen to those who became injured. There were lots of different pirate flags ​and the main colours were black, white and red.
autumn term
cinderella
We have been retelling the story of 'Cinderella' this week in preparation for next week when we will make a change to the story and then write our own fantasy story.
Mrs Morris read the story and we created freeze frames to show each scene.
Can you tell what part of the story each picture is?
owl and the pussycat
We read some of Edward Lear's work and learnt the 'Owl and the Pussycat.' We added actions to it too.
In preparation for writing our own facts, we have been learning to tell the difference between a fact and an opinion/statement that is not a fact. We sorted these together.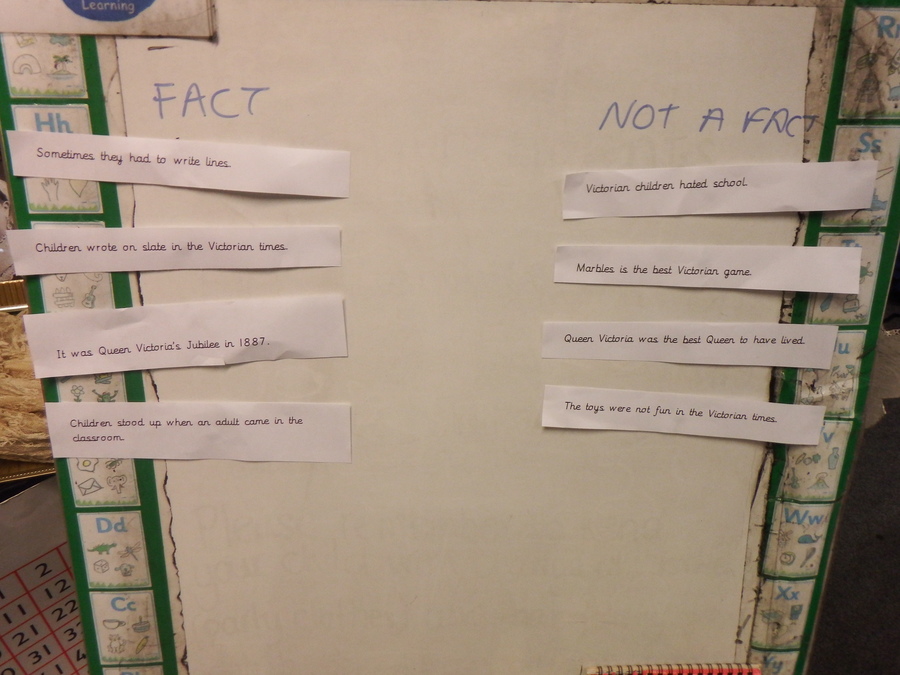 Victorian classroom
Stunning Start – Victorian Classroom
On 13th September 2017, Moons Class went back in time to be year two on 13th September 1844. When Mrs Morris came out to see us in the morning, she gave us all a Victorian name and rang the bell for the start of school. We started the day with prayers and drills. Then we did our reading lesson. Doris and Ivy had to read aloud to the whole class! Then we did some writing but unfortunately Mabel, Gurtrude and Jonathan had to wear the dunces hat for speaking when they were not told to. We practised the alphabet and then it was time for playtime. We had marbles, chalks for hopscotch, a football, skipping and hoops. After this it was time for maths. We practised our numbers and recited our times tables. Finally we had our Victorian Class Photo taken in the main hall.