Science
Having thought about different ways of communicating in the past and finding out about the invention of the telephone in the Victorian times, we had a go at making our own cup telephones.
We made them using string, cups and paperclips and then did an experiment to find out how the worked best. After some testing we discovered that the best way to hear someone on the other end was if the string was pulled really tight and nothing was touching the string in between. This way the vibrations could travel all the way along!
R.E.
We visited church this week to learn about Baptisms. Max had a pretend Baptism, while we were told about each part of the special ceremony and important objects and symbols that were used. Seeing the ceremony first hand at church really helped us remember what happened during each part of the ceremony and why it was important.
Dance
We have loved having Rachel in for dance this half term and we have been creating dances about 'Alice in Wonderland' by Lewis Carroll - which was written in the Victorian times. We have pretended to be the White Rabbit, jumping down the rabbit hole, and then danced as Alice, shrinking and growing, trying to fit through the tiny door.
Art
In art we have been creating our own still life drawings and learning about Paul Cezanne. We drew fruit onto different pieces of paper, thinking about the shapes and sizes, and then tried to make an interesting arrangement on the page. Check back to see some of our finished sketches soon.
English
In English we have been looking at non-fiction information books and their features. We are now using them to help us write our own facts about the Victorians which we will be making into our own booklets, full of useful information about the Victorian times, as well as a contents and index page.
Maths
In Maths we have been busy learning about place value of numbers, recognising tens and ones. We have used diennes and place value cards to help with this. We have also been practising counting in 2s, 5s and 10s and are beginning to count in 3s too. We have also been adding using number lines and hundred squares, thinking about counting on from numbers in our heads.
Music
We listened to some street cries from Oliver Twist and then had a go at writing our own. We thought about what we might be selling, wrote our lyrics, then decided on a tune with our groups, thinking about high and low notes. When we were finished we all had a go at performing them to the class.
Time Capsule
At the start of each new topic in history we have been opening up a time capsule to find clues about what we will be learning. We have been developing our enquiry skills, thinking of some great questions about the different items inside! We have then tried to answer the questions in our history lessons. We have already opened time capsules full of clues about Queen Victoria, schools in Victorian times and Victorian houses.
D.T.
To make our Victoria sponge cake we had to write our own recipes, thinking about the ingredients and method, then follow the instructions we had written. We also used scales to measure the ingredients.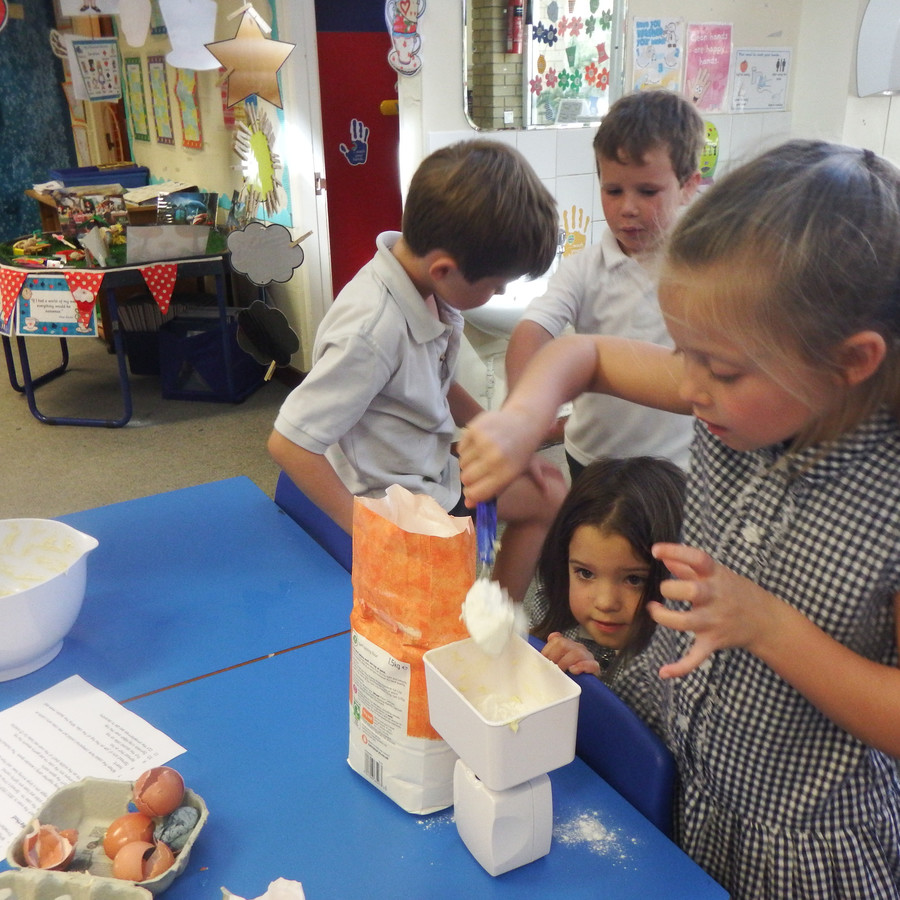 Stunning Start
Comets class really enjoyed our Victorian Day for our Stunning Start. It was a little bit scary at first as Miss Sherress was being very serious and we all had to be in complete silence. We all got given Victorian names for the day, wrote lines using slate and chalk, had our hands inspected to check they were clean, sat in rows, stood up to answer maths questions and practise our timetables. We also had a drill lesson where we did different exercises on the playground.
In the afternoon we sang a Victorian School song, played games like Blindman's bluff and quoits, and then we got to eat the Victoria sponge cake that we made. We all had a great day but decided we prefer school how it is today!