Geography Day
We celebrated our world and cultures on geography day this week. In our classes we focused on the book 'If the world were a village'. This book imagines what the world would be like if 100 people represented the actual 6.7 billion population. We wrote from the viewpoints of different people in the village and imagined what that would feel like and what our lives would be like. We then looked at different ways to present the data shown in the book. In the afternoon we visited different classes, collecting stamps on our passports on the way. We participated in a range of activities from different countries such as: Painting New York skylines, playing french boules, building lego objects and African drumming.
Aspirations Day
We celebrated aspirations day by looking at different jobs and goals that we have. We thought about what we might like to do when we are older and the skills we would need. We the wrote letters to people explaining why we would be good for the job. In the afternoon we visited the aspirations fair and spoke to a range of different people about the jobs they do. We learned lots of things from the people who visited such as a beautician, physiotherapist, personal trainer, optician and paramedic.
Maths Theatre Group
Last week we had a visit from the Quantum Theatre group who performed a space themed maths play named 'Shape, space and desperate measures'.
Sports Week
The school celebrated sports week with a variety of events including our annual sports day, an inter-house dodgeball tournament and a sports carousel afternoon. In class, lessons were based around different sports and healthy lifestyles.
spring term
Residential Trip to High Ashurst
Year 4 have had a fantastic time on our residential to High Ashurst this week. We were very fortunate with the weather which added to the enjoyment. The children learnt lots of new skills in our activities, which included: rock climbing, high ropes, fire making, shelter building, challenge course, night hike and camp fire. The food was also excellent!
Potato Wallpaper
We have also been designing artwork based on Wallace and Gromit's wallpaper! Our challenge was to create a design based on a machine. Lots of us used a cog style design.
We used a potato to create a relief print which we then printed in a repeated design, layering colours over each other. It was tricky to carve our potatoes and it took a few attempts and reworking of our designs to get the effect we wanted but it was worth all the resilience as our designs look fantastic!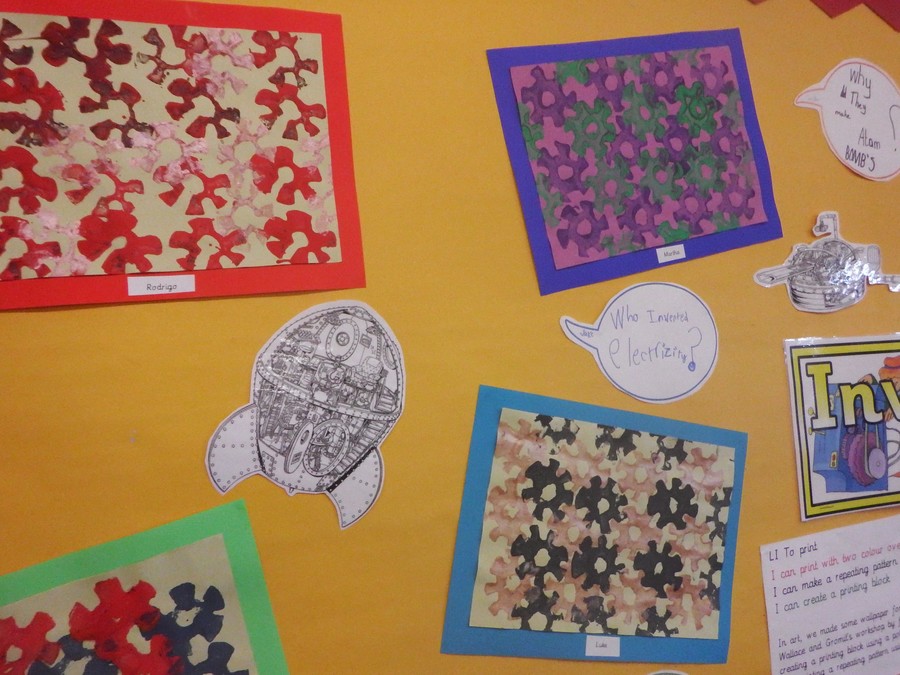 What is sound?
Our Science focus this term is sound and we have been investigating how sound is made and how to create different sounds. We worked on a carousel of activities including, using musical instruments, making a water xylophone and twanging rulers to investigate different ways sounds are made and how different things can impact sound.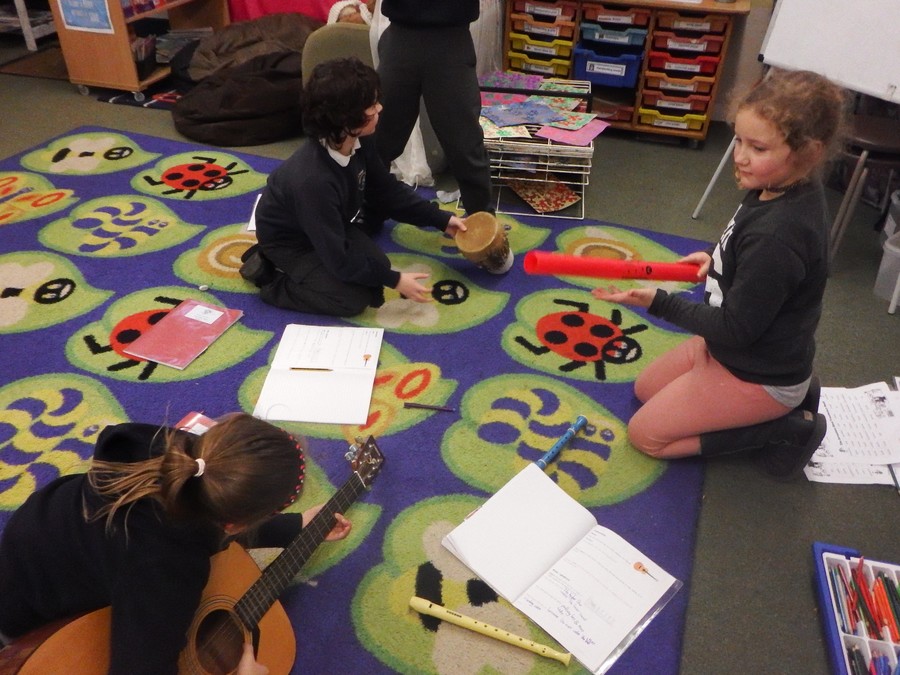 Snoozeatron
We have been learning about explanation texts in English based around Wallace and Grommit's Snoozetron invention! This invention is designed to help you get back to sleep on a restless night! We really enjoyed using the clip to stimulate some drama and role play and then used this to write some fantastic explanations of how the Snoozeatron works! Come and have a read of our writing on the classroom wall!
Stunning Start!
We became inventors ourselves this week as part of our stunning start for our new Inventors and Inventions topic! We watched Wallace and Grommit and discussed his inventions (We will be using this as a stimulus for our writing over the term). We then thought about how we wanted our topic to look by thinking of our own questions about inventions and inventors. Our teachers will now use these questions to plan our learning! Finally we spent the afternoon learning about innovation. We were given the problem that a penguin was stuck down a long pipe and we had to design and build an invention to help rescue it! This required lots of thinking, teamwork and problem solving but most of us were successful!
Autumn Term
Haslemere Museum
As part of our marvellous middle for our 'Ancient Egypt' topic this term, Y4 visited Haslemere museum to learn about mummification. At the museum we learnt how to mummify someone, got to see a real life mummy, investigated artifacts (some of which were 2500 years old!) and then we got to mummify our own teddy bears.
Science workshop
This week we had a visit from Air Products, who gave us a really exciting science demonstration where we learnt all about states of matter.
Mars Class Assembly
Mars class put on an outstanding class assembly this week, retelling the story of Tutankhamun and his discovery by Howard Carter.
Cracking the hieroglyphic code!
In history this week we have been learning about how the ancient Egyptians used hieroglyphics to write. Did you know there are over 700 different symbols for words and letters! We learnt all about how the Rosetta stone was discovered and how this helped crack the hieroglyphic code and enabled us to learn a lot more about ancient Egypt! We then had a go at using hieroglyphics to create our own 'Marsetta Stone'.
All aboard the Music Bus!
We had a fantastic time with Music Works this week, learning how to manipulate sounds to create effects! We thought carefully about words linked to our Egypt topic and then listened in amazement as they were transformed into a spooky Egyptian soundtrack, using the computer.
We were able to make our voices louder, softer, scarier, higher or lower pitched and sound like we were stood in a tunnel! We thought our new composition would be perfect for using in a museum or documentary to create a creepy, intense atmosphere!
Calligrams
In English this week we have been studying Calligrams (shape poems). We created our own Calligrams about the River Nile and the pyramids which included adjectives, alliteration, similes, metaphors and personification.
Geography
In geography we have been learning all about the position of Egypt, the geographical landscape and major towns and cities. We created giant maps of Egypt in groups and the best one has been displayed in the classroom.
Visit from Pharaoh
Mars and Earth class were very lucky last week, as we had a visit from Pharaoh. He came to tell us all about what it was like back in ancient Egypt and we had prepared questions to ask him to find out more information. He even came with his own slaves!
Stunning Start
Year 4 began their new topic with a flight to Egypt. All children had their passports and boarding passes in hand, and after making it through security, were seated on the plane. Following a safety demonstration from the cabin crew, we took off on route to Cairo. Refreshments were served on board and in-flight entertainment was provided.
Following our trip, we wrote postcards to our friends and families at home to tell them about our wonderful trip.
Year 4 Curriculum Meeting
Click here to see the slides from our Year 4 Curriculum Meeting.