CYE
The children had a brilliant time at CYE. Take a look at the photos...
Feeling Good Week
We really enjoyed our Circus Skills Workshop as part of Feeling Good Week!
Special Visitor
On Tuesday 1 February, year 6 were delighted to be joined by Bishop Jo from Guildford Diocese. Year 6 have learnt recently about the structure of the Church of England and about the role of a Bishop so they had prepared lots of questions in readiness for their question and answer session with Bishop Jo. She then led worship and gave a blessing. She was impressed by the singing of year 6 and by the interesting questions she was asked, for example about her role, faith, and even about her pets!
Google Expeditions
Year 6 thoroughly enjoyed a demonstration of Google Expeditions -we explored Greece , including the Parthenon in Athens!
Natural History Museum
Year 6 had wonderful visit to the Natural History Museum, focussing on evolution and adaptation as part of our science learning. We also enjoyed an investigation workshop. The children were impeccably well behaved and the science investigation workshop leader complimented us not only on their behaviour but also on their speed and efficiency of tidying up after themselves at the end of the session. All the adults on our trip were very proud of the behaviour of year 6.
PE
In hockey, Mercury have been learning how to handle a hockey stick and also the skill of push passes.
Small World
We used text books to research desert features, recorded the vocabulary and recreated the scene in our small world.
RE
In RE, we have been learning about the life of St Alban and what his story tells us about courage and following your beliefs.
Church Trail
Some of our prefects were very excited to be invited to launch the NADFAS church trail at St Nicolas church recently. The trail, which was a little like a treasure hunt, was based upon features of the church building and their significance to Christians. Thank you to Georgie, Reverend Roy and Mr Bagot for inviting us!
Anyone can go in at any time (so long as there isn't anything else happening in Church at the time!) and complete the church trail. There is a question sheet for children and a laminated answer sheet for the adults to help.
Harvest Donations
Year 6 prefects were delighted to have helped Reverend Roy and Georgie to deliver harvest donations to Cranleigh residents. Thank you again to all our parents and friends who kindly donated items for our Harvest celebration service at church.
RE
As part of their RE curriculum, Reverend Ian visited year 6 this week to talk with the children about the role of the church in the community.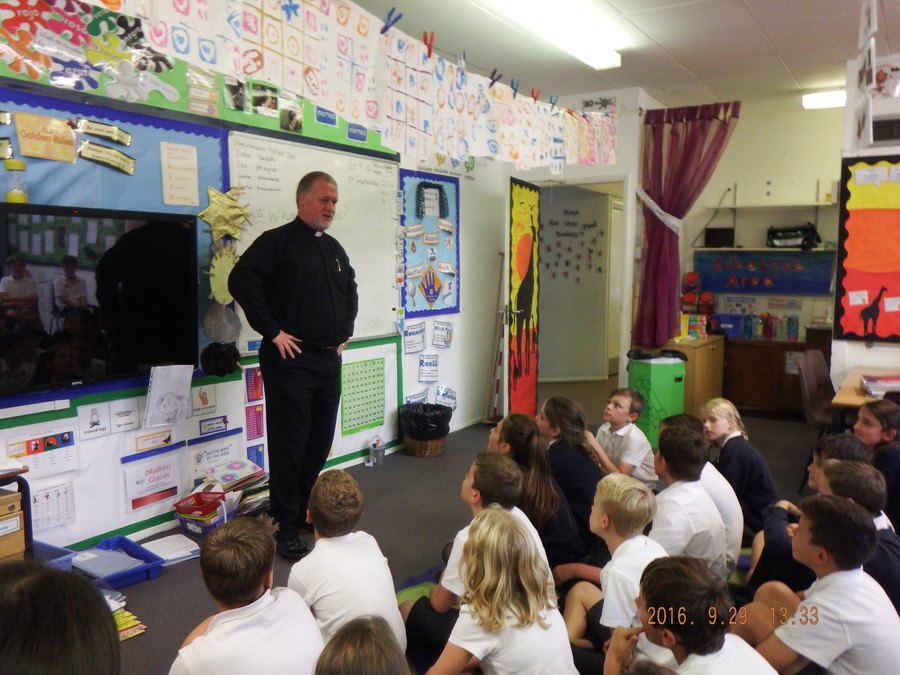 Marwell Zoo
Mercury Class had a' Stunning Start' to our Amazing Arica topic when we visited Marwell Zoo to learn more about adaptation. Thank you to the Friends for subsidising this trip.
Church Visit
Year 6 recently visited St Nicolas church to find out about the church as a building. We learnt that the church building dates back 900 years and the bell tower was erected in 1638. The church is used for many different purposes besides worship. The bell tower Captain showed us the bell ropes and we learnt about how the bells are used to call people to services. Georgie and Ian informed us about the purposes of the different parts of the church building-we had a fantastic visit and finished by having a quiet, personal reflective prayer time.
Art
We have been printing after being inspired by the symbolism of traditional Ghanaian Adinkra prints. We have also learnt about the physical geography of the continent of Africa and we are looking forward to our Stunning Start-a trip to Marwell Zoo to learn more about adaptation and African habitats. Our prefects have started their duties and have already drawn praise from members of staff for their commitment and enthusiasm.