HOME REFLECTION
Wednesday 6th January 2021
Today is Epiphany. Please click here to learn about this important Christian festival.
Over lock-down, Pastor Andy has been kindly creating worships and stories for us to take part in. Bubbles in school have been taking part in daily reflections and following the stories closely. Thank you Pastor Andy for this great resource. Click here for Cranleigh Baptist Church stories.
Here is a worship you could do at home to reflect on VE Day on the 8th May.
We're all in the same boat
Everything feels different at the moment, doesn't it?
Everything feels a little bit chaotic and stormy.
It's affecting all of us. We are all in the same boat.
Look at the two pictures of the boats on the sea, taken from a version of the story of Jesus calming the storm.
Which boat would you prefer to be in?

How do you think it might feel to be in the boat on the stormy sea?

We sometimes talk about 'being in the same boat'. What do you think this means?

At this time when everything is changing, and everything feels different, it's good to remember that it's changing and different for everyone: we're all in the same boat.
Talk about the things that are the same for everyone at the moment: share any worries or concerns together and think about how it helps to know that at this time, we are not alone. We may be apart from one another and social distancing may prevent us from seeing friends and family members, but there are lots of other ways we can feel together.
Dear God,
You hold me in your palm. Hold me close and keep me calm.
Amen.
Can you make a cross out of things you can find around your home?
This was the challenge the children in school were set yesterday. They decided to make their cross from things they could find outside using only natural resources. First they chose a spot and decided on the size, by working as a team a brilliant cross was created. It provided a lovely opportunity to stop and reflect, thinking about the run up to Easter.
It would be lovely to see some of the crosses you make at home with the things you can find.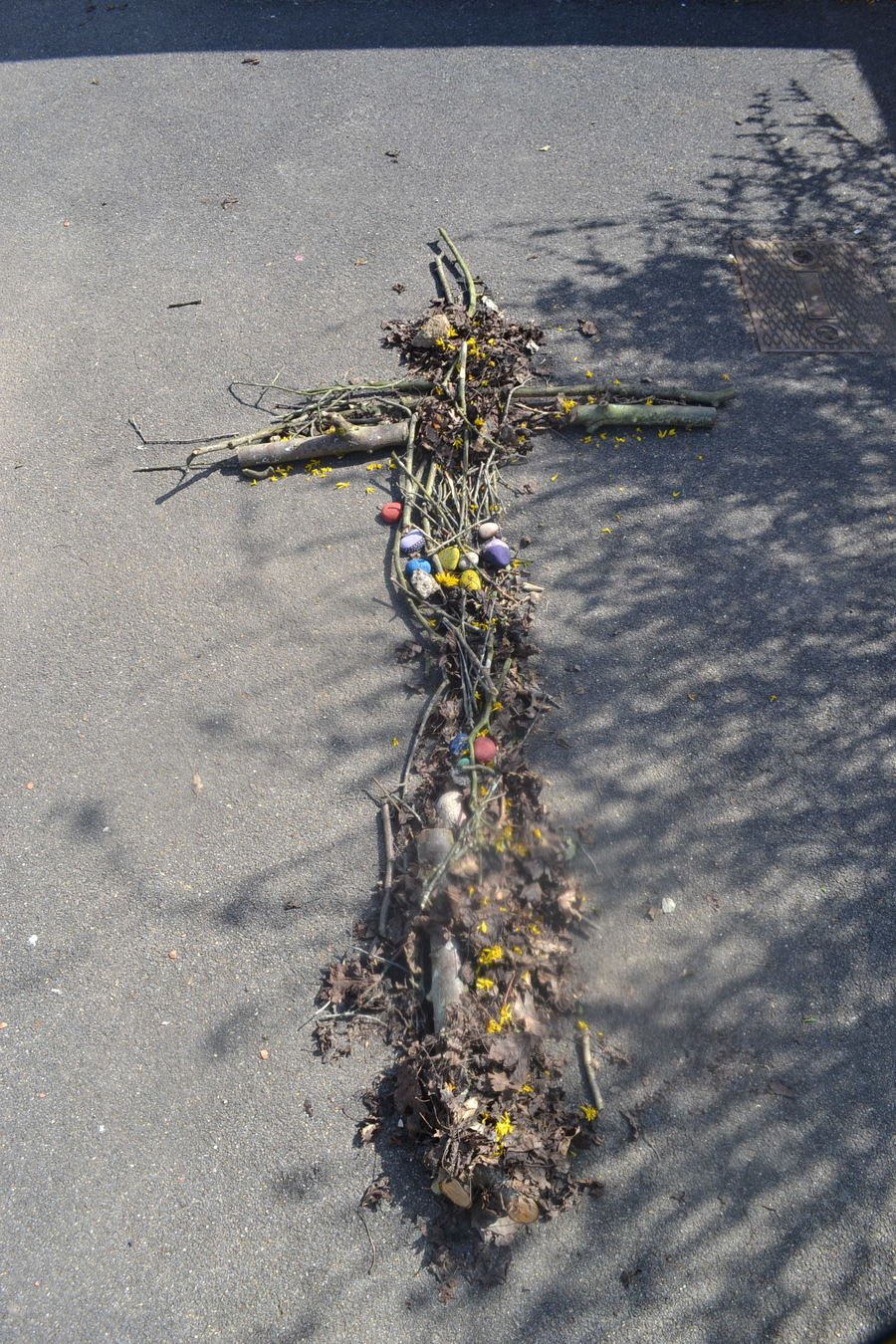 Perfect prayer with Easter on its way. A prayer from a child in Reception Class.
Dear Lord,
Thank you for Easter for Jesus coming back to life.
Help us to try and look after other people.
Amen
'Friends are the people who make you smile brighter, laugh louder and live better.''
Think about what your favourite things to do in your spare time are. Do you enjoy spending time with your friends? When you think about your friends how does it make you feel? Why are they special to you?
Without friends how would you feel? Friendships do not just appear overnight they have to be worked on, cultivated much like flowers in your garden. Nevertheless, when they bloom they really are things to treasure.
F is for faithful; they're loyal to the end.
R is for reliable; they're true and don't pretend.
I is for the interest in sharing thoughts with you.
E is for enjoyment whatever you might do.
N is for neighborly; they're kind in every way.
D is for dependable on every single day.
S is for that special friend you know is always there.
FRIENDS make you happy and you know will always care.
Read the Bible passage Luke 5:17-25 and think about the importance of staying loyal to your friends.
How could you make time today to connect with a friend today? Show them that you are thinking of them. Why don't you share some memories of times you have spent with friends today to remind you of all the special bonds you have formed in this world.
Dear God,
We thank you for our friends and for the happy times we share with them. We may not be with them now but they are always in our thoughts. Help us to be a good friend to them. Teach us how to play fairly and to share. Help us to recognize loneliness in others and show friendliness towards them. We know that you are our friend and will always be with us.
Amen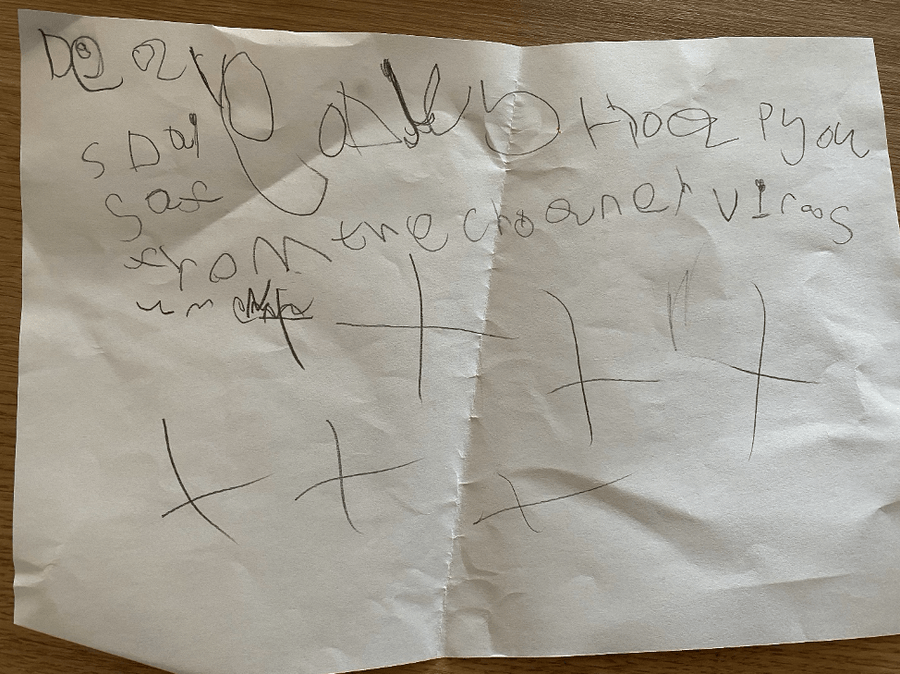 A prayer From Esther in Year R . She did this all on her own.
Dear God, I hope you stay safe from the Coronavirus. Amen xxxxxxx
''The Earth has music for those who listen''
''But ask the animals, and they will teach you, or the birds in the sky, and they will tell you; or speak to the earth, and it will teach you, or let the fish in the sea inform you. Which of all these does not know that the hand of the Lord has done this? In his hand is the life of every creature and the breath of all mankind.'' Job 12:7-10
Did you know:
That a cheetah can run up to 70mph?

That if a sloth dropped down to the ground from its tree it would be completely helpless as its long claws would prevent it from walking?

That camels have long eyelashes to protect their eyes from blowing sand?

That it is possible for all the female bats in one cave to give birth at the same moment?

That tree frogs have sticky pads on their feet for clinging to vertical surfaces?
Christians believe that our amazing world and all that is in it was created by an amazing God:
Think of your favourite animal, your favourite flower, your favourite fruit or vegetable, your favourite part of creation

If you ask anyone these questions, they would all have very different answers- Christians like to give thanks to God for providing us with this variety.
Imagine a world where trees, plants and flowers are stripped of life. Every day, more and more vegetation is destroyed through industry, pollution and human actions. Imagine a world where climates are changing, landscapes are being rewritten. What kind of world are we creating?
Today take time to share with the people around you what you are thankful for in nature.
Dear God,
We thank you for all the animals that inhabit this earth. We are sorry for hunting them, hurting them leading to many becoming extinct and neglected. Help us to care for the animals around us and to appreciate the wonder of all the beings that you made.
Amen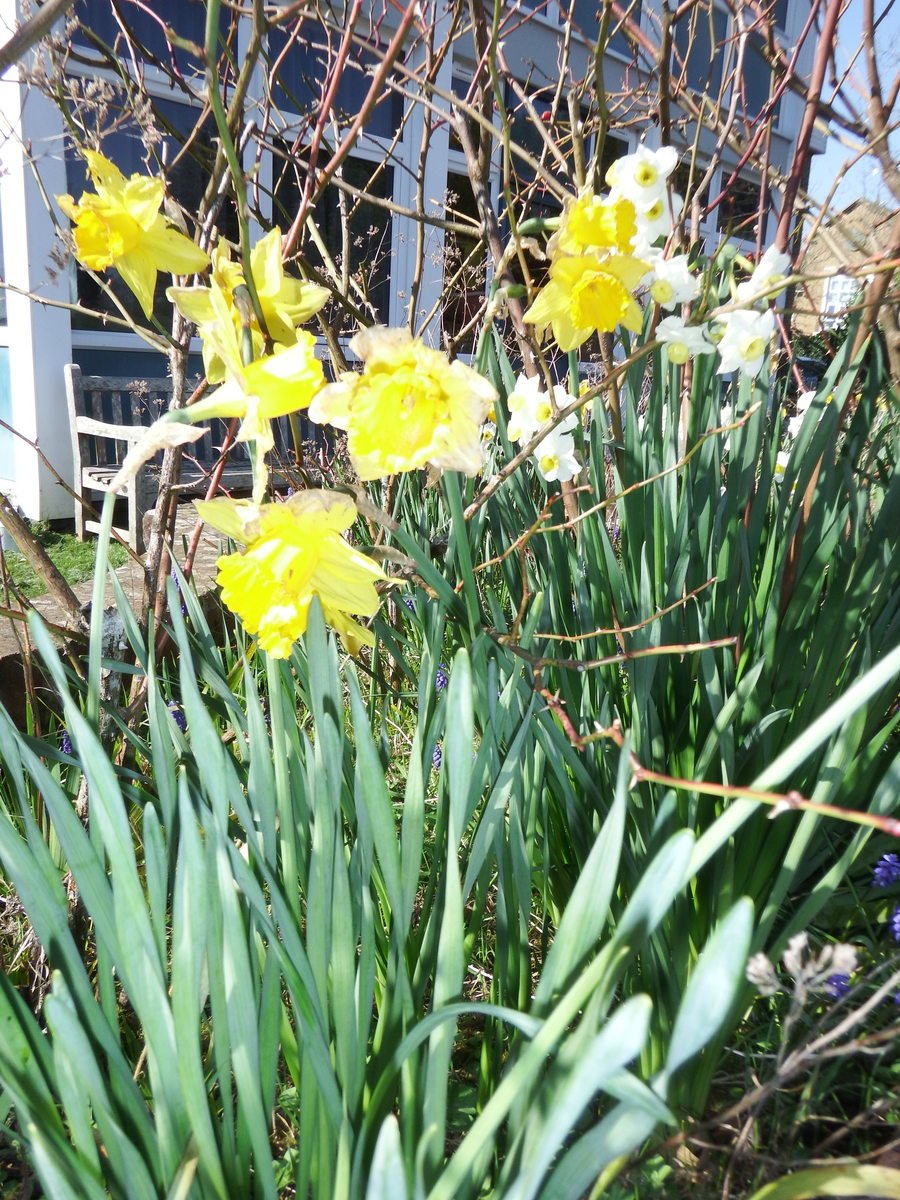 ''Happiness is enjoying the little things in life''
"The Lord is my strength and shield. I trust him with all my heart. He helps me, and my heart is filled with joy. I burst out in songs of thanksgiving."
Psalm 28:7
It is important to know what makes us happy so we can cheer ourselves up when we feel down, or can calm ourselves when we are worried, or just do the things that make us happy more so that we are happier in our lives.
Happiness can come in all shapes and sizes; often the things that make us happy are small, everyday things rather than large, extensive purchases!
Can you think of 5 times today you have felt happy on the inside, make sure to share these thoughts with someone who is important to you. This will spread the happiness further and further. Keep smiling.
Dear God,
Thank you for my family, for hugs and kisses and special times together.
Thank you for my friends, for laughter and chatting and sharing.
Thank you for my home, for rest times, bath times and bed times.
Thank you for food, for breakfast, lunch and dinner and snacks and treats.
Thank you for play-times, for toys and games and books.
Thank you for fun, for giggles and for silly happy times.
Thank you for making all these lovely things and for helping me to enjoy them. They all bring me happiness inside.
Amen.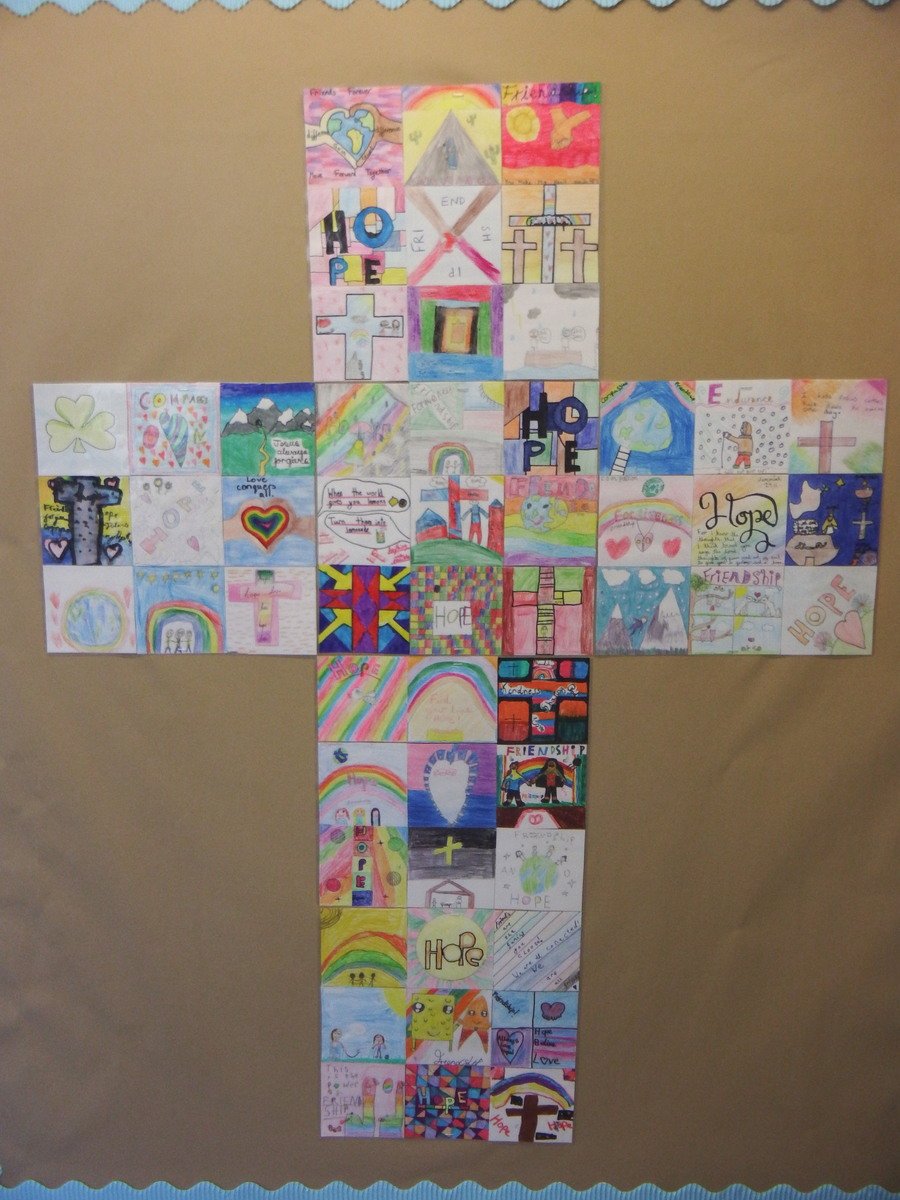 '' Be the one that shines for somebody else today.''
''Therefore encourage one another and build each other up, just as in fact you are doing.'' 1 Thessalonians 5:11
What has made you smile today?
Every single day you make millions of choices from what colour socks you put on to what time you go to bed. All of these choices influence both yourselves and others around you. Going in with a positive mind-set will not only benefit you but others as well. It is important to spread positivity around; it is as easy as helping out with the dishes to offering to feed the cat. All these small actions build up a bigger picture allowing positivity to spread throughout your day.
Have a think about a time you did something well. How did you feel at the time? What did you think, see and hear? Who were you with? How did they react?
Now think of something you find challenging. Imagine it now going really well and play a movie of this in your mind. When it comes to tricky situations, you can replay the positives this will allow you to achieve the best possible outcome.
Sometimes it is harder than others to stay positive but it is at these times when you can turn things around if you adopt a positive attitude and make positive choices. Sometimes you may be able to do this alone other times you may need to ask others for help.
That is fine BE BRAVE and ask.. we all need a bit of help sometimes and we all need to stick together. Keep smiling.
Dear God,
Thank you for bringing important people in to the world who help us with everything- they keep going and bring positivity to all. We hope that your day is blessed with kindness and joy.
Amen
(By Keira and Elizabeth)
What makes us a Christian school?
As a church school we believe that our role is to educate the whole child and that the spiritual growth of our children is as important as their academic development. We have a well planned curriculum that embraces spiritual, moral, social and cultural development.
As a distinctively Christian school, the principles that underpin everything we do are:
Love the Lord Your God
Love Your Neighbour as Yourself
We aim to develop six Christian Values in our children:

Friendship - good companions and community
Hope - assurance that we can rely on God
Forgiveness - the joy of a fresh start
Thankfulness - knowing that life is a gift
Compassion - putting yourself in someone else's shoes
Endurance - not giving up even if things are difficult
We are proud of our strong links with St Nicolas Church and often work closely together.
We also have links with Cranleigh Baptist Church.
We are pleased with the spirituality that thrives in our school community and more details about our provision can be found here.