spring term
4AB - Art
4AB have been looking at 'The Boy Who Lived with Dragons' by Andy Shepherd which inspired our dragon eyes artwork. We learnt about shading techniques and how to achieve variations in tone. They are currently on display in the Year 3 and 4 shared area - so come and have a look!
4ab - maths
This half term in 4 AB we have been focusing on fractions. We have been learning how to identify and find equivalent fractions, how to add and subtract fractions with like and unlike denominators and how to convert between mixed numbers and improper fractions. We have all been working really hard and are so proud of how we are doing.
4ab - English
In 4AB's English sessions we have stepped into 'The Boy Who Lived with Dragons' by Andy Shepherd which has inspired our own story writing. We have worked really hard to make our work exciting to catch the reader's interest through a process of drafting, editing and finalising. Please enjoy the selection of fantastic writing below.
Cranleigh Primary School has been chosen as a Champion School for the awards
We had a wonderful visitor from Cranleigh Library on Tuesday 28th January. She came to talk to the children about the Surrey Libraries Children's Book Award 2020. Cranleigh Primary School has been chosen as a Champion School for the awards and she came to tell our children about their involvement and of course about the books.
The books that have made it to the final are:
Hotel Flamingo by Alex Milway
Picklewitch and Jack by Claire Barker
Night of the Living Ted by Barry Hutchison
The Boy Who Lived with Dragons by Andy Shepherd
Baker Street Academy: Sherlock and the Baker Street Curse by Sam Hearn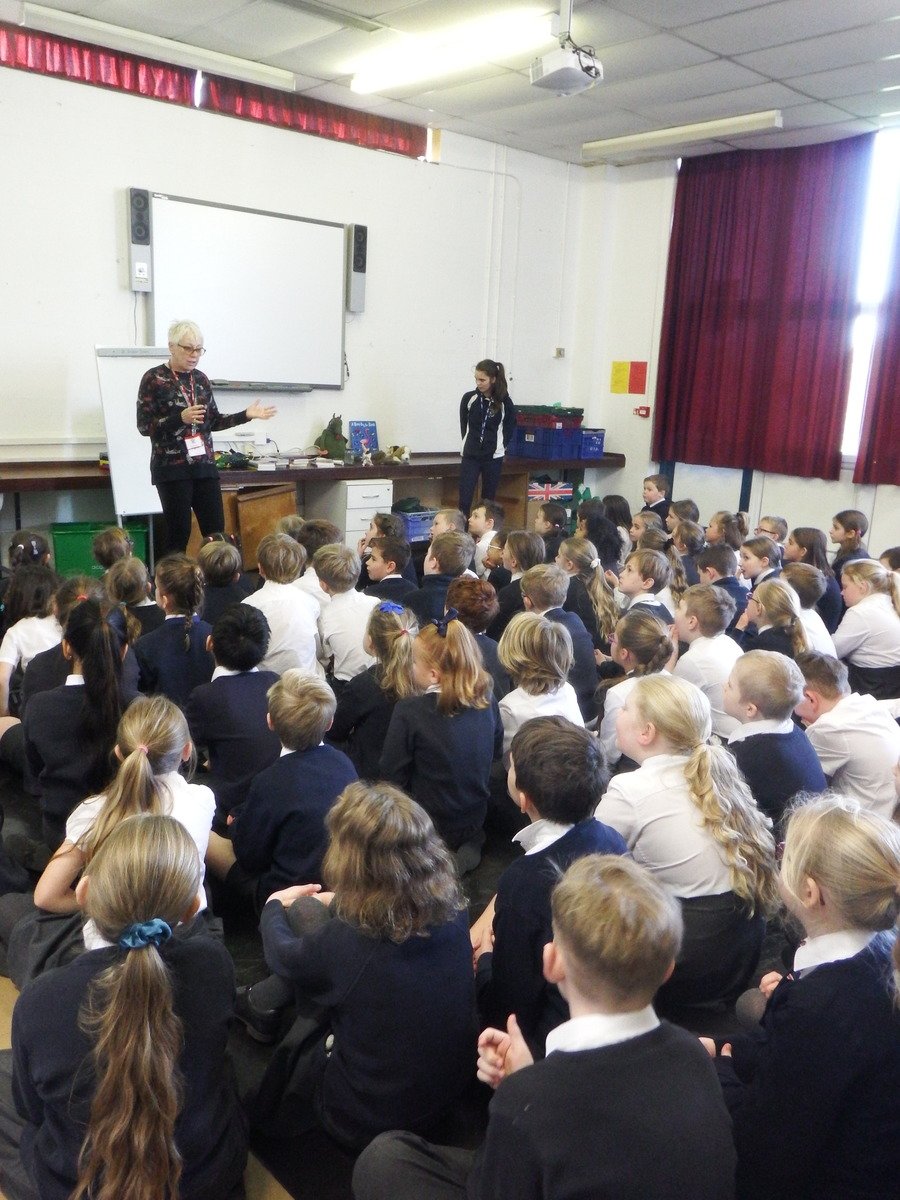 all about sound
This week 4LS have been learning all about sound, sound waves and how sound travels. They have been experimenting with tuning forks in water and using string telephones to observe how sound travels.
autumn term
visiting the residents at rowley''s community centre
Year 4 went to visit Rowley's on the 25th November to sing a few songs. We sang 'Count On Me' by Bruno Mars, 'A Million Dreams' from The Greatest Showman and 'Shine Jesus Shine'. The residents absolutely loved it and were very complimentary. The whole of year 4 represented the school brilliantly and should be very proud of their performance.
science
After learning all about the different types of teeth humans have and need, 4AB created an experiment to test whether different liquids have different effects on our teeth. We used hard boiled eggs and the shell represented the enamel on our teeth. We found out that the more sugar a liquid has, the more damaging the effect is on our teeth – especially if we don't brush them! We found our results really shocking and pretty gross!
4AB have been studying the digestive system and learning about the different stages and functions. Miss Brockman demonstrated the process using chocolate cake, a spatula, coca cola, tights, amongst many other things!
In our English sessions we have been learning about the discovery of Tutankhamun by Howard Carter and Lord Carnarvon. We have been writing our own newspaper articles documenting the events which unfolded all those years ago. This learning made us interested in Tutankhamun's sarcophagus and burial mask so we decided to create our own. We worked really hard and some even went to the Art Centre to be put on display!
hieroglyphics
4AB have been learning about how the ancient Egyptians communicated. We looked at the Rosetta Stone and studied hieroglyphics before trying to create our own messages for each other. We then created our own cartouches with our names on in hieroglyphics. Can you work out who these cartouches belong too?!
art
We worked really hard to create these bold and eye-catching silhouette paintings. I think you will agree that 4AB are FAB!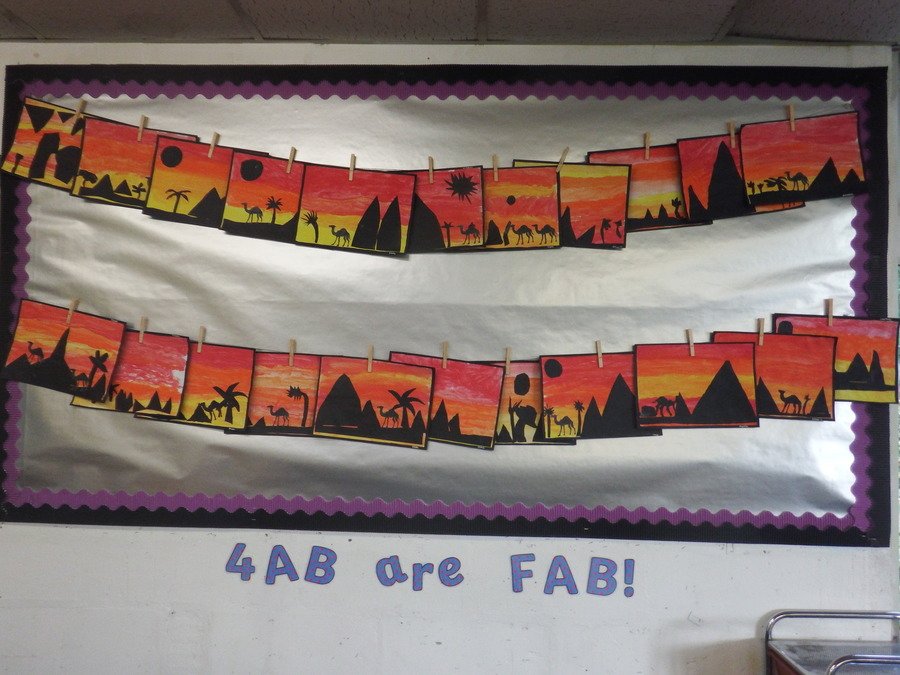 stunning start
We then had a little bit of fun and mummified our friends using toilet roll!
4AB learnt all about the gruesome but interesting process of mummification and the ancient Egyptian belief about life after death. We conducted an experiment to see the effectiveness of the mummification process by mummifying a tomato! We followed the same steps as the ancient Egyptians and will leave our tomatoes covered in salt and bicarbonate of soda for 40 days. We will be checking our tomatoes regularly to see if there are any changes!